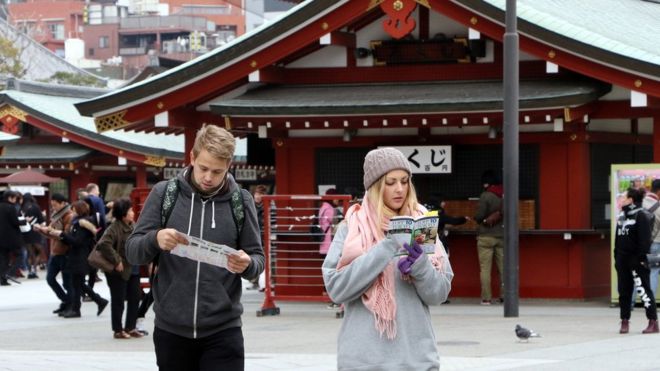 Image copyright AFP

Need directions in Japan? There's now round-the-clock help available
Tourists who encounter a language barrier while visiting Japan can now access 24-hour, multilingual phone assistance, it's reported.
Local authorities have started offering the translation services after a boom in foreign visitors, many of whom have little knowledge of Japanese, The Japan Times website reports. In some areas the hotlines are accessed by staff in hotels, car rental companies or restaurants to decipher tourists' queries, but others enable visitors to contact a call centre directly.
The number of international visitors arriving in Japan has soared in recent months. In August, an estimated 1.82 million foreign tourists entered the country, a 64% increase on the previous year, according to figures from the Japan National Tourism Organisation.
Local authorities have partnered with private companies which run the call centres, and staff can help people with everything from finding a doctor who speaks a particular language, to negotiating a deal in a souvenir shop. One company has 13 languages available, including Russian and Indonesian. "In the case of hotels, guests often ask simple questions such as what time is breakfast or dinner," says Toshiharu Kimura, a spokesman for Shiga Prefecture. They also often ask how to send baggage home, he says.
In the southern Saga Prefecture, the government has launched a smartphone app to connect tourists directly to an operator, who can answer queries or contact local services on a tourist's behalf. A spokeswoman for the Saga Tourism Federation says: "We've gotten the fire department and the police on board as well, so you can use the service for help if you are involved in a traffic accident in a rented car or you need urgent medical help."
Source: www.bbc.com